Food Safety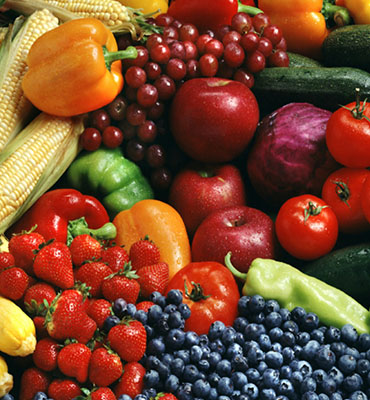 The issue of food safety, the chain of which stretches from the producers through transportation links, storage, processing and final disposition to the consumer, is quickly becoming more important…especially with the passage of the new FDA Food Safety Modernization Act (FSMA). This act was the most sweeping reform of our food safety laws in more than 70 years, and it aims to ensure the U.S. food supply is safe by shifting the focus from responding to contamination to preventing it.
One of the ways that growers can be sure they are in compliance with the Produce Safety Rule is through routine water sampling.  Under the Produce Safety Rule, growers are required to establish a microbial water quality profile (MWQP) to ensure that their irrigation water meets the PSR's requirements.  Click below for a full download of our FREE MWQP Calculator:
---
Our Food Safety Services Include…
E. Coli O157:H7
EHEC/STEC – Non-O157
Salmonella spp.
Listeria spp.
Listeria Monocytogenes
Total Coliforms/Generic E. Coli
Fecal Coliforms
Aerobic Plate Counts
Enterobacteriaceae Counts
Yeast / Mold
Staphylococcus aureus
Bacillus cereus
Pesticide Residue Analysis
Multi-Residue Level Packages for Fruits & Vegetables
Multi-Residue Packages Include:
Halogenated Compounds—Group I:
2,3,5,6-Tetrachloroaniline
3,4-Dichloroaniline
Acrinathrin
Aldrin
alpha-Chlordane
Atrazine
Benfluralin
Chlordene
Chlordimeform
Chlorobenzilate
Chloroneb
Chlorthal-Dimethyl (Dacthal)
cis-Nonachlor
Clomazone
Cyanazine
Deltamethrin
Diallate
Dimethachlor
Dimethomorph
Dinitramine
Endrin
Etaconazole
Ethalfluralin
Ethiduazole
Expoxiconazole
Fenhexamid
Fipronil
Fluchloralin
Flucythrinate
Fluquinconazole
Fluridone
Flutolanil
gamma-Chlordane
Heptachlor
Heptachlor epoxide
Hexaconazole
Linuron
Lufenuron
Mirex
Monolinuron
Nitrofen
Nuarimol
Oxadiazon
Oxychlordane
Pentachlorothioanisole
Pyrifenox
Profluoralin
Propachlor
Propanil
Simazine
tau-Fluvalinate
Tebufenpyrad
Tefluthrin
Terbuthylazine
trans-Nonachlor
Triadimefon
Triallate
Triflumizole
Triticonazole
Organochlorine Compounds—Group II:
Acetamiprid
alpha-BHC
beta-BHC
Bifenthrin
Boscalid
Bromopropylate
Captan
Chlorothalonil
Chlorpropham
Chlorpyrifos
Chlorthal-Methyl (Dacthal)
Cypermethrin
Cyproconazole
delta-BHC
Dichlofluanid
Dieldrin
Difenoconazole
Endosulfan I
Endosulfan II
Endosulfan Sulfate
Fenarimol
Fenbuconazole
Fenhexamid
Fenvalerate
Fludioxonil
Folpet
gamma-BHC
Hexachlorobenzene
Imazalil
Iprodione
Kelthane
Lambda-Cyhalothrin
Methoxychlor
Metolachlor
Myclobutanil
o,p DDT
p,p DDE
p,p DDT
Penconazole
Pentachloroaniline
Pentachlorobenzene
Pentachloronitrobenzene
Permethrin
Pronamide
Pyraclostrobin
Quinoxyfen
Tetradifon
Tolyfluanid
Triadimenol
Trifloxystrobin
Trifluralin
Vinclozolin
Phosphorus Compounds—Group III:
2-butoxyethyl Phosphate
2-Ethylhexyl Diphenyl Phosphate
Acephate
Azinphos Methyl
beta-Chloropropyl
Cadusafos
Carbophenothion
Chlopyrifos Oxon
Chlorfenvinphos
Chloropyrifos
Chlorpyrifos-Methyl
Chlorthiophos
Coumaphos
Cyanofenphos
Cyanophos
Demeton-S-Methyl-Sulfone
Diazinon
Diazinon-O
Dichlorvos
Dicrotophos
Dimethoate
Dioxathion
Disulfoton
Edifenphos
EPN
Ethion
Ethoprop
Fenamiphos Sulfone
Fenitrothion
Fenthion
Fonofos
Heptenophos
Isofenphos
Leptophos
Malathion
Mecarbam
Methidathion
Methyl Paraoxon
Methyl Parathion
Mevinphos
Monocrotophos
Omethoate
Paraoxon
Phorate
Phorate Sulfone
Phorate Sulfoxide
Phosalone
Phosmet
Pirimiphos-Methyl
Profenofos
Prothiofos
Pyrazophos
Pyridaphenthion
Quinalphos
Sulfotep
Sulprofos
Terbufos
Tetrachlorvinphos
Tolclofos-Methyl
Triazophos
Tribufos
Trichlorfon
Nitrogen & Sulfur Compounds—Group IV:
1,2,3,6 -Tetrahydrophthalimide
1-Naphthalene Acetamide
2,3,5 – Trimethacarb
3,4,5 – Trimethacarb
Allethrin
Ametryn
Aminocarb
Amitraz
Azoxystrobin
Benalaxyl
Bendiocarb
Biphenyl
Bitertanol
Bupirimate
Buprofezin
Butralin
Butylate
Carbaryl
Carbofuran
Carbosulfan
Carboxin
Cycloate
Cycluron
Cymiazole
Cyprodinil
Desmedipham
Desmetryn
Diethofencarb
Diniconazole
Dinobuton
Dioxacarb
Diphenamid
Diphenylamine
EPTC
Ethiofencarb
Ethiolat
Ethofenprox
Ethofumesate
Ethoxyquin
Famoxadon
Fenazaquin
Fenfuram
Fenobucarb
Fenoxycarb
Fenpropathrin
Fenpropimorph
Flurenol-butyl
Flusilazole
Fuberidazole
Furalaxyl
Hexazinone
Isocarbamid
Isoprocarb
Isopropalin
Isoprothiolane
Isoproturon
Kresoxim-Methyl
Lenacil
Mepronil
Metalaxyl
Metaldehyde
Methfuroxam
Methoprotryne
Metolcarb
Metribuzin
Mexacarbate
MGK-264
Molinate
Napropamide
Nitralin
Nitrothal-isopropyl
Ocothilinone
o-Phenylphenol
Oxadixyl
Pebulate
Pendimethalin
Phenmedipham
Phenothrin
Piperonyl Butoxide
Pirimicarb
Promecarb
Prometon
Prometryne
Propargite
Propham
Pyracarbolid
Pyrethrin
Pyrethrin II
Pyrethrin III
Pyrimethanil
Pyriproxyfen
Resmethrin
Secbumeton
Sethoxydim
Simetryn
Spiroxamine
Tebutam
Tebuthiuron
Terbumeton
Terbutryn
Tetramethrin
Tetraconazole
Thiabendazole
Tralkoxydim
Tricyclazole
Vernolate
Methyl Carbamates—Group V:
Aldicarb
Aldicarb sulfone
Aldicarb sulfoxide
Aminocarb
Bendiocarb
Carbaryl
Carbofuran
3-Hydroxycarbofuran
Ethiofencarb
Fenodicarb
Methiocarb
Metomyl
Oxamyl
Propoxur
Thiodicarb
---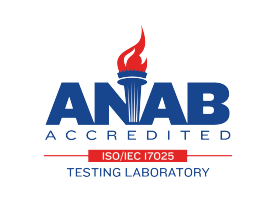 Our Accreditations Include…
ISO 17025
USDA Food Safety Inspection Service
USDA Agricultural Marketing Service
---
Our Methods Include…
Please contact the lab for services that are not listed above.