The Importance of Soil Sampling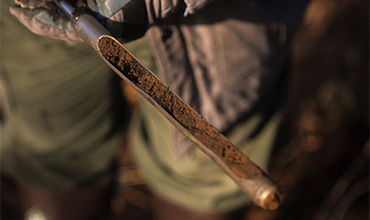 Late fall and early winter are the optimum times for soil sampling. Sampling this time of year allows farmers to prepare for upcoming crops. Fall and winter soil sampling programs are utilized by crop consultants, fertilizer dealers, landscape professionals, gardeners and producers. Soil testing is an invaluable tool to any business that deals with soil or plant health. A proper soil test will help to determine the application of fertilizer needed to meet the crops' requirements while also taking advantage of the nutrients already present in the soil, thus being a very cost effective tool for managing a fertilizer program.
There are two key ways to collect soil samples. Conventional sampling methods typically represent ~15-20 acre fields or plots. For farmers with small farms or small fields spread out over multiple locations, this method is usually sufficient in fertility management. But for those farmers who have larger fields the Precision Ag approach may be more practical. The idea behind Precision Ag is to sample smaller areas than conventional sampling which allows the division of an area by factors such as soil type, soil fertility, problem areas or yield data. Variable Rate Technology and the ability to apply nutrients to only areas that the soil test requires allow producers to manage soil nutrients more efficiently.
No matter which soil sampling approach is taken, a soil test plays a major role in managing fertilizer programs, increasing plant growth and yield, and managing costs.