Lab-Talk 6.0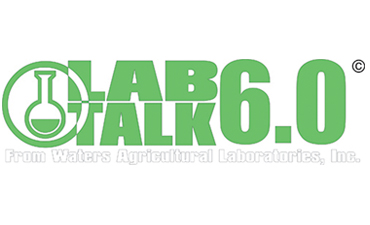 Originally written for DOS in 1991,the latest Lab-Talk 2000 For Windows continues the tradition of "extra mile" service to which Waters Agricultural Laboratories is committed. Lab-Talk 6.0 is provided free of charge and is an excellent management tool for dealers and growers alike. With features like Sample Viewing Screens, Graphic Reports, Yearly Comparisons, Sample Based Averaging, FUS Support, Precision Ag Exports, and Precision Ag Reports Lab-Talk 6.0 is a must-have product. In addition, there are many turf specific features in Lab-Talk 6.0. Dealers use it as a marketing and record keeping tool while growers, golf course superintendents and end-users employ it in numerous other productive capacities. Of course, the principal feature and original concept of Lab-Talk 6.0 is faster turnaround times.
We have implemented an instant e-mail notification system whereby Lab-Talk users are advised immediately of sample result availability. Results can then be downloaded from the internet via FTP and imported directly into Lab-Talk for ultimate management control.
In addition, Lab-Talk 6.0 contains a built-in web browser that instantly navigates to web content geared specifically toward Lab-Talk users. Soil, plant, and precision ag information all at your fingertips! Software updates are accomplished online and telephone support is always available.
---
Lab-Talk 6.0 was developed by our in-house programmers and, as such, is completely customizable. Indeed, the detailed feedback of our customers has been instrumental in molding the program into its current configuration. Waters Agricultural Laboratories, Inc. will continue to fine-tune this valuable management tool. We are confident that Lab-Talk 6.0 will influence your business in a positive direction.
 Please contact the laboratory for complete instructions on how to download the newest version of Lab-Talk 6.0.