EHEC Testing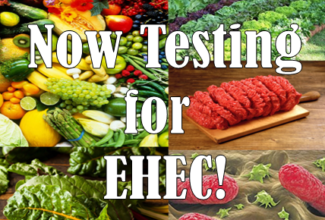 EHEC (Enterohaemorrhagic E.Coli
What Is It?  EHEC is a strain of E.coli that is capable of producing toxins.  These toxins have the potential to cause severe, bloody bowels, which in some cases cause severe health issues and may even cause death.
Where Is It Found?  EHEC is mostly found in raw or undercooked ground meat and raw milk.  However, over the last few years an increased number of outbreaks are contributed to the consumption of fruits and vegetables (ready-to-eat).  Contamination is most likely caused by the commodity coming in contact with feces from domestic or wild animals at some stage during cultivation or handling.
How Do I Prevent It?  
Test your products and commodities to ensure that they are free of the pathogen Enterohaemorrhagic E.Coli.